Here are your tickets

or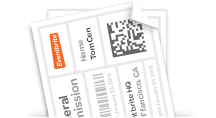 Paper Tickets
The event organizer has provided the following information:
Event Information
Thanks for registering for Con Con! This is gonna be fun.
Here's how the day will play out:
You'll arrive around 9am. Grab coffee and breakfast, and meet some people who are as passionate about content as you are.
Around 9:45, everyone will take their seats in the theater.
You'll hear from 3-4 speakers in the morning. You'll learn how these speakers use content to drive their businesses forward. They'll discuss the specific strategies they use, so you'll walk away with tactics you can use to apply to your company.
We'll break for lunch. This is a great time to catch up on work, or dive deeper into conversations with the speakers and other attendees.
In the afternoon, you'll hear from more great speakers, learn more content markeing tactics, and meet more amazing people.
The talks will end about 6pm. Feel free to hang out at the theater and have a drink with some of your new friends. We'll close everything up around 8pm.
Order Summary

October 18, 2017

Order #: 650065000

| Name | Type | Quantity |
| --- | --- | --- |
| Smiles Davis | Speakers | 2 |
This order is subject to Eventbrite Terms of Service, Privacy Policy, and Cookie Policy
About this event
Thursday, November 16, 2017 from 9:00 AM to 6:00 PM (PST)
Brava! for Women In the Arts
2781 24th Street
San Francisco, CA 94110
Add to my calendar:
Your Account
Log into access tickets and manage your orders.
Create your own event

Anyone can sell tickets or manage registration with Eventbrite.

Discover great events

Find local events that match your passions.
Eventbrite | 155 5th St, 7th Floor | San Francisco, CA 94103
Copyright © 2017 Eventbrite. All rights reserved.