Whew! We've all been through a lot in the last few weeks thanks to the COVID-19 pandemic and the events surrounding it. Life in general feels overwhelming—and now we have to figure out what to do about updating brand messaging at work. We can't continue life as usual, but how should we revise our strategies and serve our customers during this time? How can we avoid coming across as tone deaf, self-serving narcissists? How do we preserve our businesses and our subscriber lists at the same time?
In email marketing, it always comes down to your specific subscriber base and your customers. You know your customers—so think about what they might need during this time. It may be information about your products and offering, but more likely it's some levity and a helping hand. But regardless of your audience, here are a few basics you need to keep in mind:
Start with listening. When's the last time you actually asked your subscribers questions about their lives, not just about your relationship to them as a business? Try it on for size. See what you learn.
Be empathetic. It's time to exercise your emotional intelligence. So often, email marketing is data-and sales-driven, but what if we focused on connecting instead?. Can you ease any burdens your subscribers are facing?
Be useful. Only send what is truly necessary. Answer true and pressing concerns. Send transactional and information emails when they're needed. Inboxes are crowded right now, so don't add to the noise if you don't need to.
Here are some great articles to check out. They can help you make informed decisions about your marketing messaging and COVID-19 emails:
What we owe each other: Marketing during the unthinkable
Email Snarketing, March 13, 2020
Beware of Virtue Signaling or Outright Greed in Brand Communications About COVID-19
Gartner, March 15, 2020
How to Survive a Brand Quarantine During Coronavirus
Adweek, March 12, 2020
Let's take a look at what some of the best emails from brands coming out of the COVID-19 pandemic are doing, and how you could implement them in your own email marketing program.
Retail & Ecommerce
Do you need to send an email? If your business is fully online, you may not need to discuss any changes in operation around coronavirus unless they are truly significant. For physical locations, it's not really necessary to let customers know that you're cleaning your store more – hopefully you were keeping your brick and mortar hygienic all along! However, your customers might want to know if you're open, what their options are for shopping, and how you will support your employees as stores begin to close.
Everlane: A Note To Our Community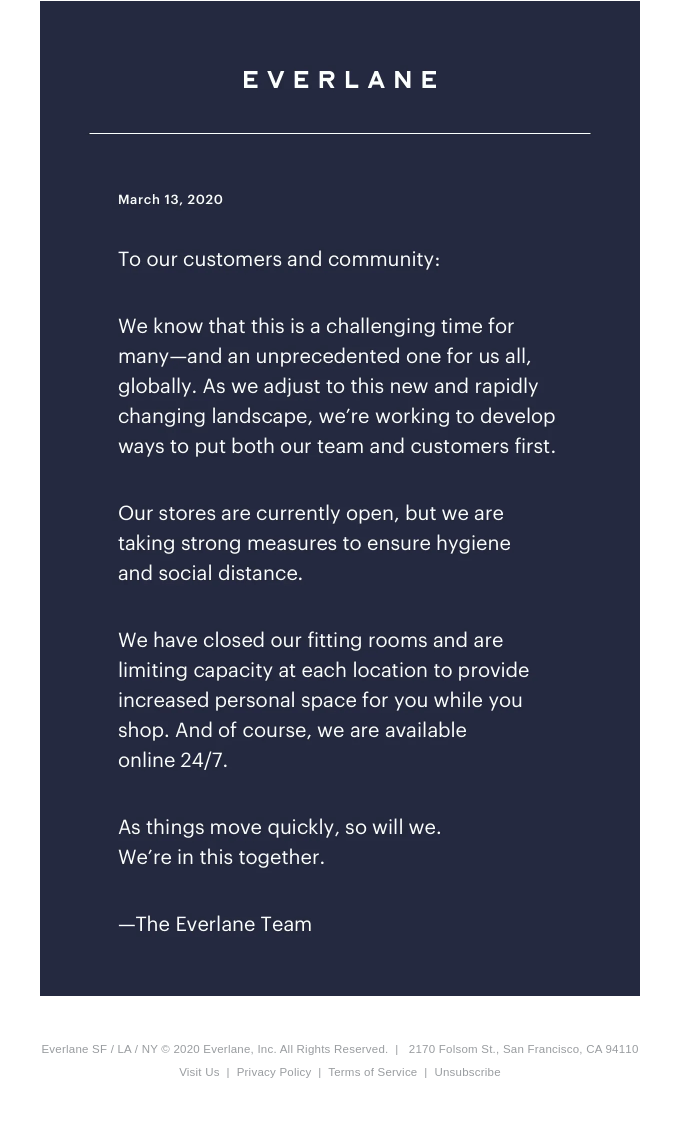 What it Does
This email specifically addresses what Everlane is doing to keep physical locations safe for their customers. This isn't just a "we're deep-cleaning our stores" email. They clearly explain to their customers what process will look like if they come into the store to shop, and then they also provide an alternative option, pushing their customers to shop online by calling out their 24/7 availability.
Why it Works
The email is reassuring, thorough, and communicative, which is essential during a time when Everlane's subscribers might be feeling uncertain and wary. Their customers know exactly what to expect going forward with Everlane and what their options are during the crisis.
CVS: Get Coronavirus Updates and Information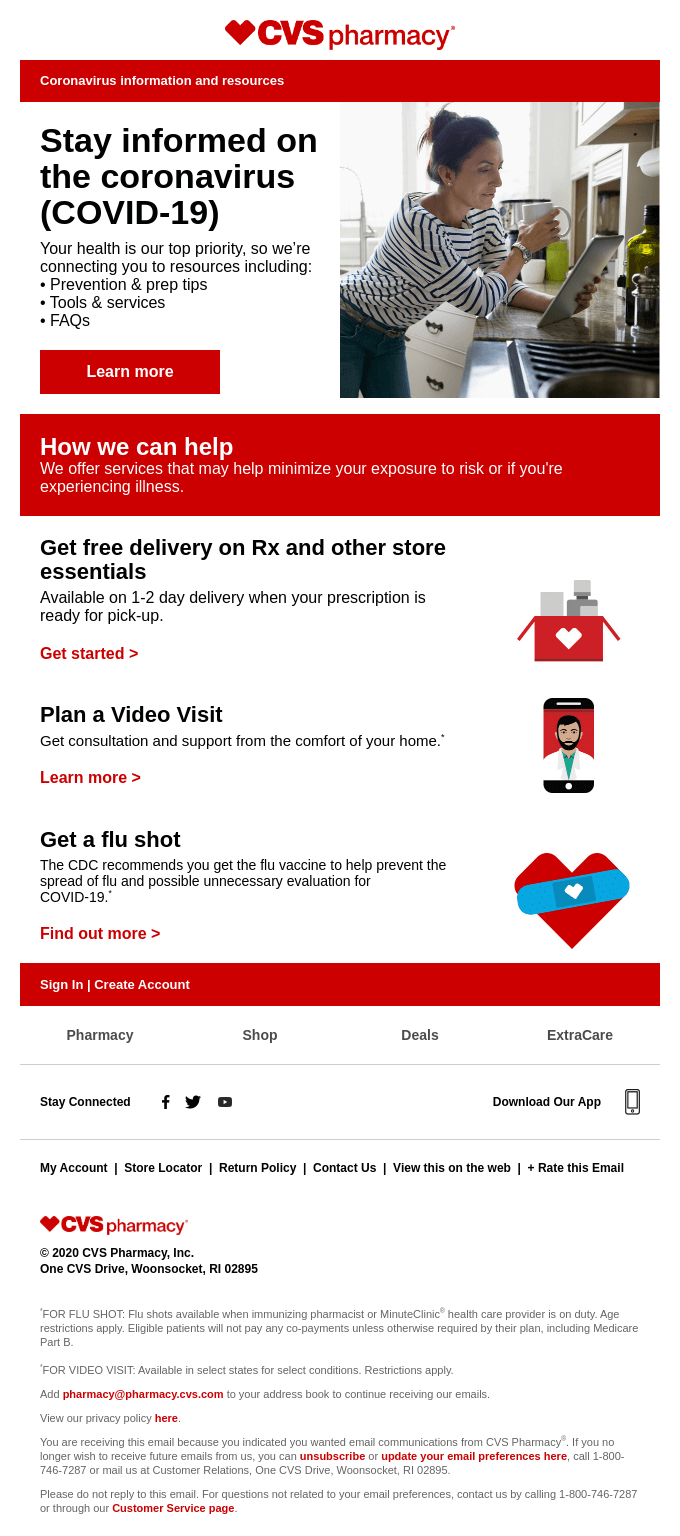 What it Does
Knowing that their customers likely need the information, CVS provides essential coronavirus information right at the top of the email. They also include helpful services like free delivery of medications, video visits, and immunizations to help customers social distance or take care of their health.
Why it Works
The email gets right to the point, providing the information that their subscribers might need to take precautions, get their medications, or learn more about COVID-19. It's useful and succinct, and is a great resource for their customers as they make decisions about their health.
Anthropologie: Keeping the Anthro community healthy & safe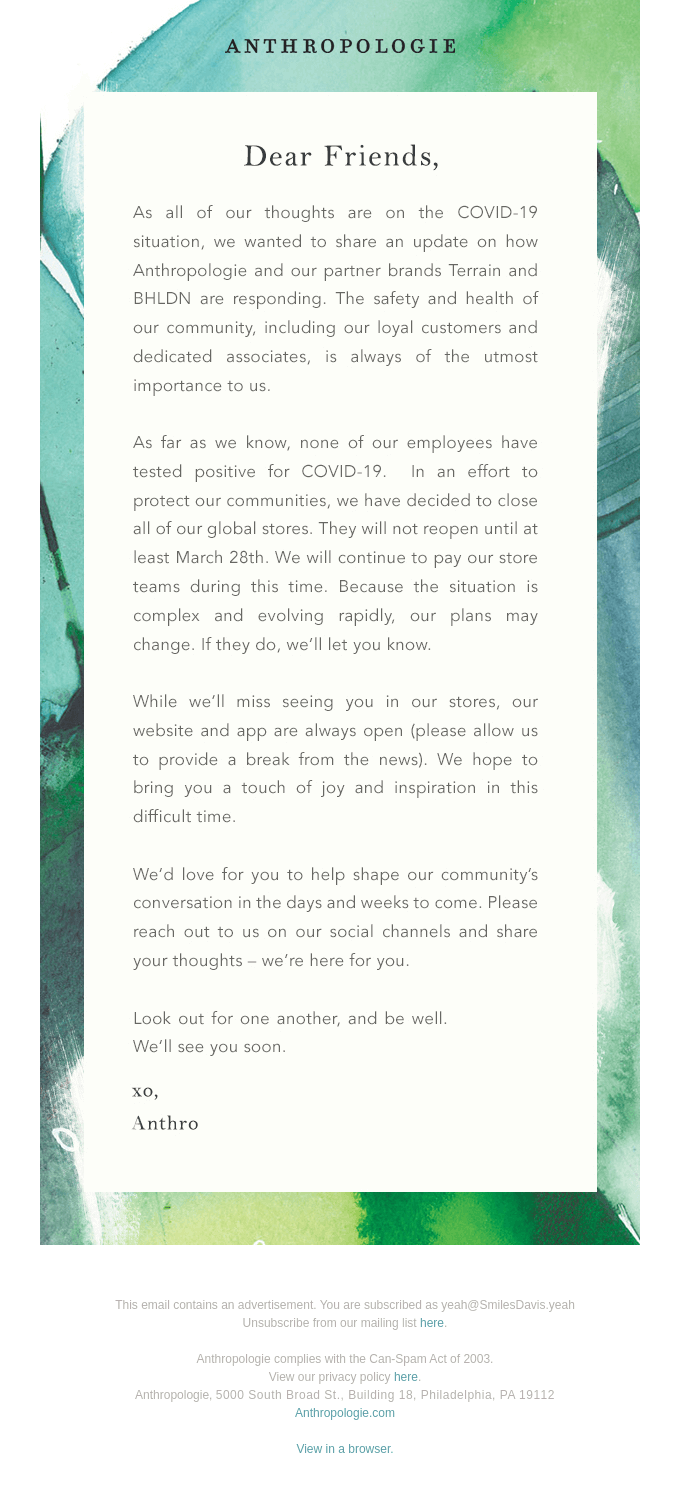 What it Does
Anthropologie has gotten a lot of attention online for this email. They notify their customers that their stores will be closing and – and this is the kicker – they reassure them that Anthropologie will be taking care of its employees. Not only does Anthroplogie demonstrate how much they care about their employees, they're also building community by offering the option for customers to reach out to them online.
Why it Works
This pandemic affects everyone. Many people are concerned about the welfare of retail and restaurant workers as businesses close. Anthropologie powerfully demonstrates a commitment to its community – including its employees.
Small Business & Restaurants
Rinse and repeat the best practices we discussed for Retail & Ecommerce brands. You may need to discuss closures as well.
Chipotle: Our Commitment to Our Community

What it Does
Chipotle reassures their customers that they've always had high sanitation standards. There's no question that the business was keeping things clean beforehand. They also explain how they will expand on existing protocols by discussing plans for employees, internal task forces to advise on the situation, and protecting to-go orders with tamper-proof packaging.
Why it Works
After quelling any worries about food safety, Chipotle takes the next step and goes even further by providing safer options for pick-up and delivery for their customers.
EVF: 😷Coronavirus and Staying Healthy with EVF 🤧💪🏼

What it Does
To keep their members healthy (a definite concern for gym-goers), EVF provides a list of tips and guidelines for when to stay home, how to properly clean equipment, how to wash their hands, and much more. These resources also act as guidelines for how behavior in the physical location needs to adapt.
Why it Works
It addresses the exact concerns their members might have about the gym during a time like this, gives them guidelines and recommendations, and prioritizes health and safety to quell any concerns.
Noom: Virtual hugs from your Noom family
What it Does
In their email, Noom first acknowledges the anxiety and stress that their subscribers may be experiencing, and then suggests tips to help people protect their emotional and mental health during a time when physical health may be out of their control.
Why it Works
Noom is offering something unique and therefore valuable to their subscribers. While many other emails focus on COVID-19 and keeping stores/restaurants clean, Noom focuses on another important aspect of our health—our mental and emotional states.
Airlines & Travel
As travel bans fall into place and flights get cancelled, it's essential for airlines and travel companies to communicate with their customers and provide reassurance to their customers.
Delta: Our Commitment to You During COVID-19 and Always

What it Does
Delta was ready for this moment: they discuss their preparation for outbreaks and pandemics, how they've handled similar situations in the past, and what policies they have in place. They also focus on their customers, explaining how the steps they will take to provide customer service.
Why it Works
Delta's confidence puts any concerns their subscribers may have to rest. They know that travel cannot fully stop in today's climate, but they explain how they will assist customers and make travel easier and safer during this moment in time.
AirBNB: An important update for Airbnb hosts

What it Does
No one likes cancellations, especially when they might affect your income. With this in mind, AirBNB softens the blow for their hosts. To add less strain on their hosts, AirBNB promises no cancellation fees or impact to Superhost statuses, as well as refunded service fees. By doing so, they prioritize their community.
Why it Works
AirBNB acknowledges their host's concerns while emphasizing the importance of protecting the population's health. They assure hosts that the company is on their side and here to support them, promising to stay in touch and update their hosts later in the week, a step towards fostering community and support.
Events
During this time of social distancing, event cancellations are inherent and given. The best way to do it is to soften the blow and provide alternatives.
Primephonic: Let's keep the music playing! 🎶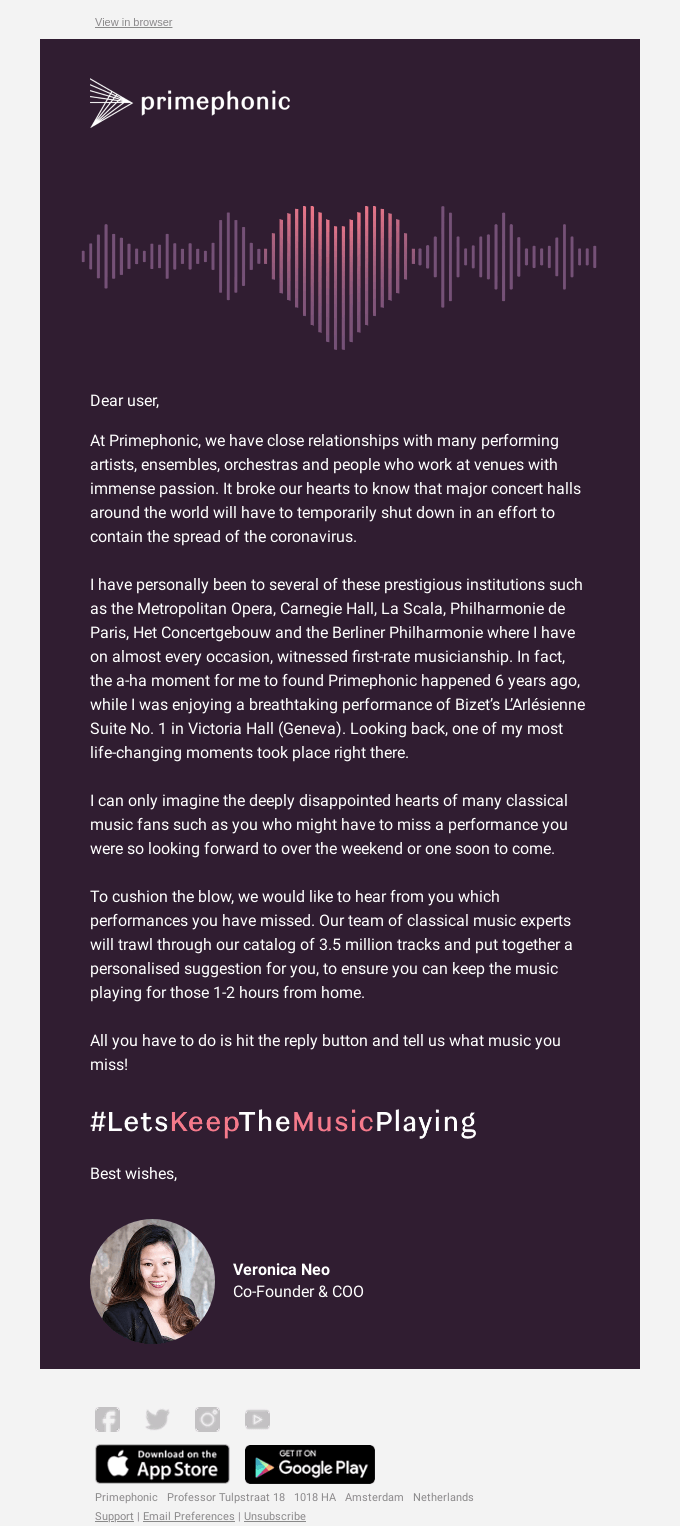 What it Does
Primephonic solves a problem for their subscribers. Knowing that many classical music concerts are being cancelled (along with everything else), they offer a replacement. If subscribers reply to their email letting them know which events they'll be missing, Primephonic will send them a personalized and streamable suggestion to listen to in place of a cancelled concert.
Why it Works
It acknowledges and validates their subscribers' disappointment and frustration and offers something valuable and helpful in its place. It may not be the same thing, but a helpful and considerate replacement for the time being. It's a great opportunity to provide value and connect with subscribers, while providing a little more levity during a difficult time.
Common Sense: Resources for Families and Educators Facing Coronavirus Uncertainty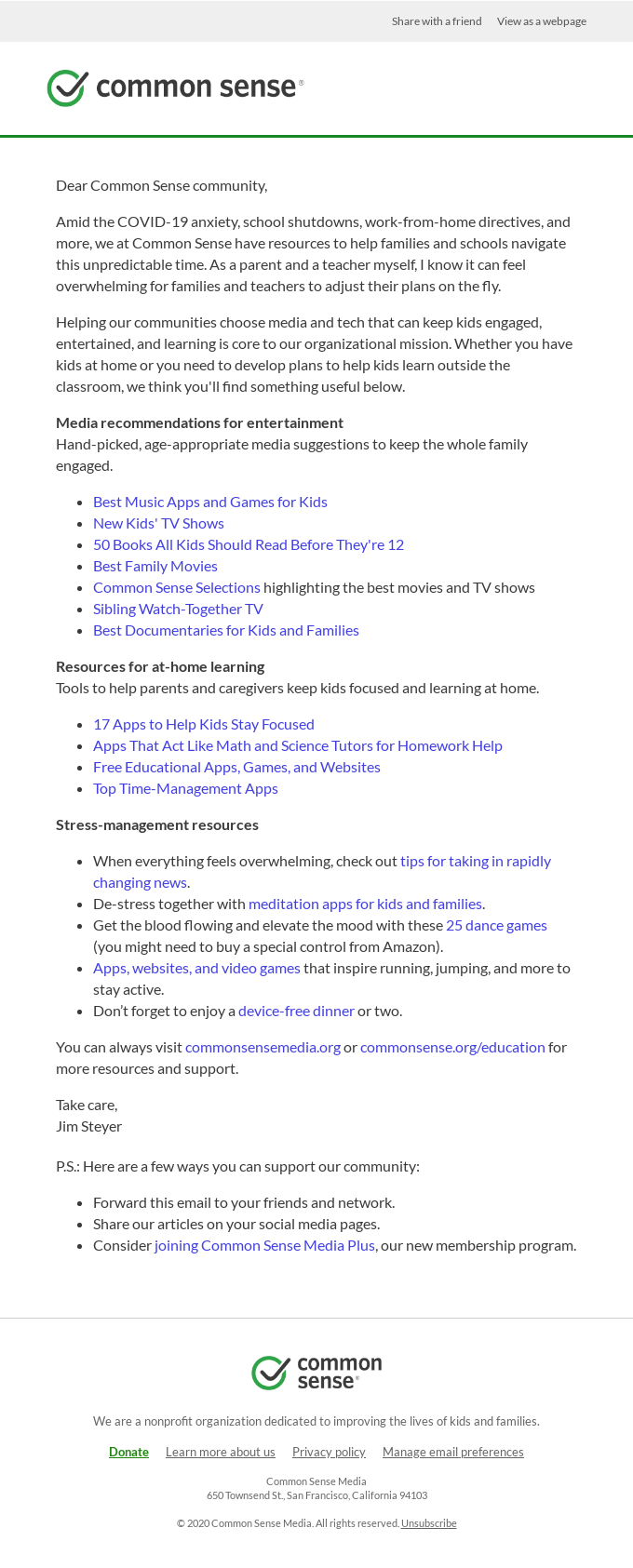 What it Does
This email is purely helpful and provides numerous resources for families that suddenly find school cancelled, including how to help kids learn at home, manage stress, and keep the whole family engaged during social distancing.
Why it Works
It answers a need. Since parents are suddenly working from home and schools are closing, Common Sense provides what they desperately need to keep kids busy. They also send some helpful tools for connecting as a family during a stressful time.
News & Publication
This is a prime opportunity to halt any spread of misinformation by serving up credible news. Make sure to communicate helpful and factual information to your audience.
Voice of San Diego: VOSD and the Pandemic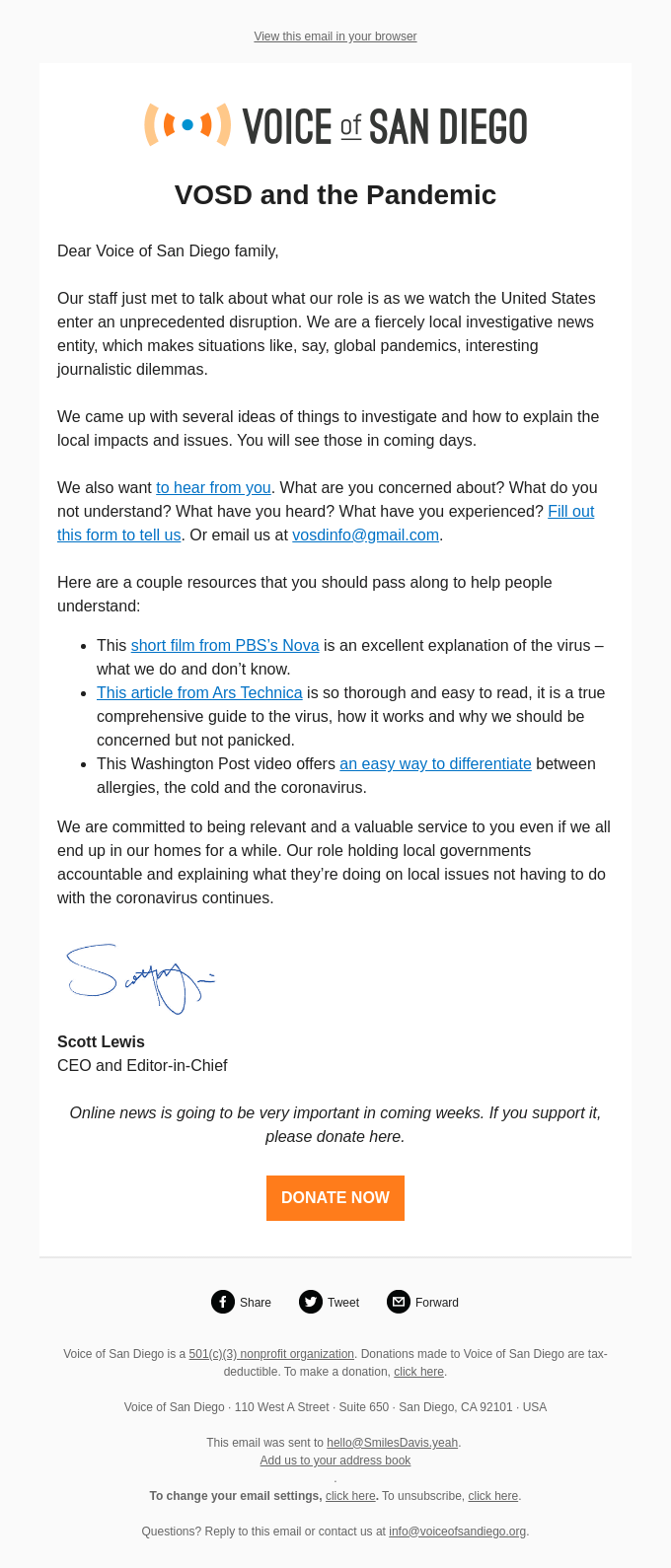 What it Does
As a news organization, VOSD shares resources and information for the questions people might have, including an explanation of COVID-19 and the ways to determine if symptoms are related to allergies, a cold, or the virus. They also offer an opportunity to connect by giving subscribers a place to sound off about their own concerns, thoughts, and experiences.
Why it Works
VOSD stays true to its identity as a local news source by tapping into and soliciting subscriber feedback while providing the information subscribers need to make educated decisions about COVID-19.
AngelList: Coronavirus: The Black Swan of 2020

What it Does
AngelList's email provides a dose of reality about the impacts of coronavirus on the market, while offering practical tips and advice for business owners and companies to weather the storm. It then wraps up with other industry-related news that their subscribers might be interested in.
Why it Works
This email isn't sugar-coating anything, but it is providing a dose of reality. Business owners and companies need to make strategic decisions right now, and AngelList helps address the effect of coronavirus on the market. It's informative and provides real advice for business leaders when it's needed.
B2B & Remote Working
What resources do business owners and people working all over the world need right now? It's a great opportunity to answer that question and lend a helping hand.
Salesforce: Standing together with our Salesforce family during the COVID-19 pandemic.

What it Does
Salesforce directly addresses any concerns their subscribers and customers may have. They explain what events will be postponed, discuss how Salesforce staff will support customers, and offer free tools. They also take the opportunity to give back through philanthropy, free product offerings, and request feedback on other ways they could help their customers – directly to their CEO's email address.
Why it Works
Salesforce is all about their community, and that's apparent in their email. They provide much-needed information, and demonstrate their empathy by offering free tools and discussing their plans to give back.
Peakon: How to support your employees during COVID-19 and beyond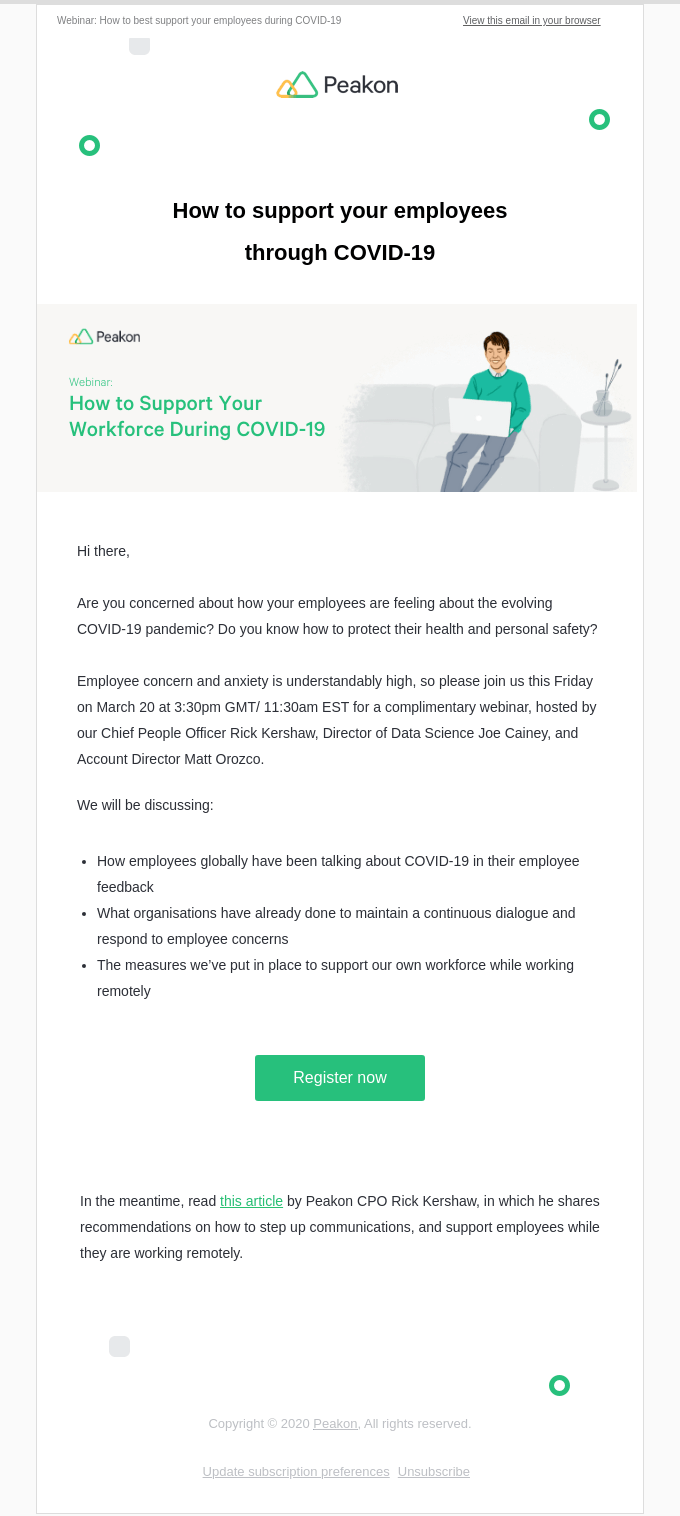 What it Does
Offers solutions and information to business owners who might need help supporting their employees during the outbreak through webinars and article links.
Why it Works
Peakon provides something helpful and educational for businesses.. It's hard to know how to talk about a major event, and Peakon eases the stress by teaching business owners and managers how to assist their employees during a difficult time and provides tips for working remotely.
Wrapping Up
Now, more than ever, it's important to come together as an email community. Don't email just to email –– make sure you're practicing empathy and providing true value to your subscribers. Wash your hands, Slack your coworkers some encouragement, and stay strong, Email Geeks. 💌