Members. Non-members. Gold members. Lapsed members. Your audience is full of them. And by segmenting and creating different content according to status, you're one step closer to sending the right message at the right time to the right people.
It's this targeted message that starts in the inbox and leads your varying loyal readers to your different part of your website, a purposeful landing page, a thoughtful article, an exclusive behind-the-scenes video, and other personalized places to entice them to take a further journey into your product, service, or content.
Here are a few good ideas on how to get started, starting with the most loyal down to your newest members.
Members: Give them the VIP treatment
When people sign up for a membership, they've given you their information, their time, and maybe their money in exchange for a unique experience. Whether that's free shipping, an exclusive local guide in the newsletter, or a coaching call once a month, build a memorable experience that will entice people to sign up, keep them coming back, and sharing your product. One way for product-based businesses to give people the VIP treatment is by giving subscribers early access to limited edition products.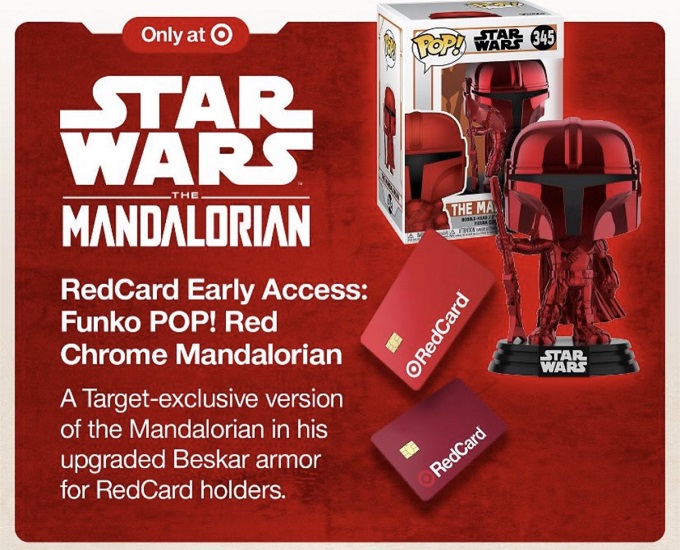 Target releases exclusive toys and other products like the red metallic Mando, giving RedCard holders early access to preview and buy the exclusives first. Sending out promotions for store-exclusives, member/cardholder previews, and early access options all create urgency for loyal customers who love the brand.
Company: theSkimm
Subject Line: Birthday suit, on
theSkimm newsletter rewards their subscribers for sharing the inbox love, referring to their brand ambassadors as "Skimm'bassadors." Subscribers can earn swag with newsletter referrals and share their input about the newsletter or events, giving readers a say in the content and an incentive to share.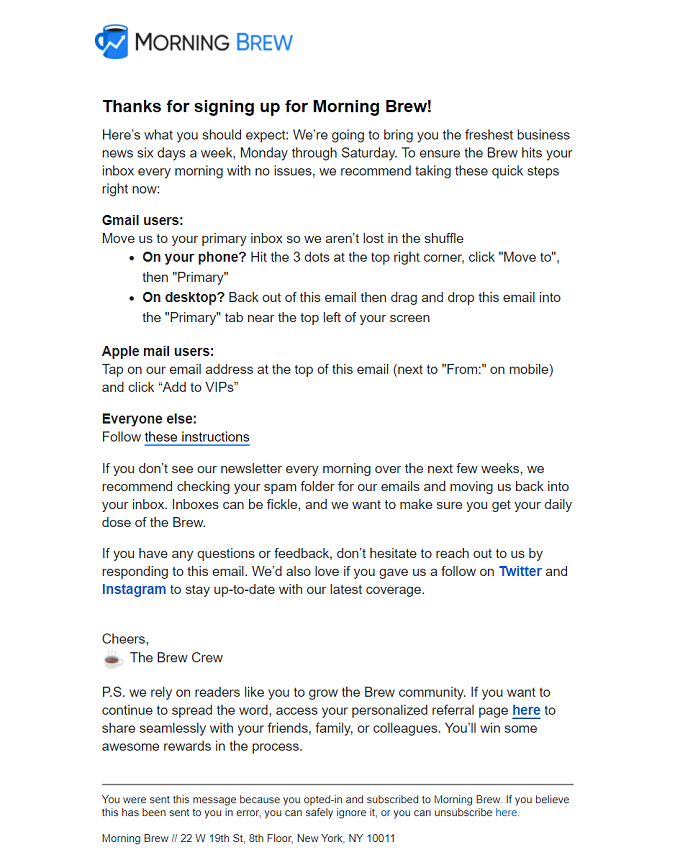 Company: Morning Brew
Subject Line: Caution: Morning Brew coming in hot
Morning Brew also incentivizes sharing its tech newsletter, assigning a referral link to each subscriber, and rewarding them with Brew swag like sweatpants and mugs when subscribers reach a certain number of referrals.
Ad: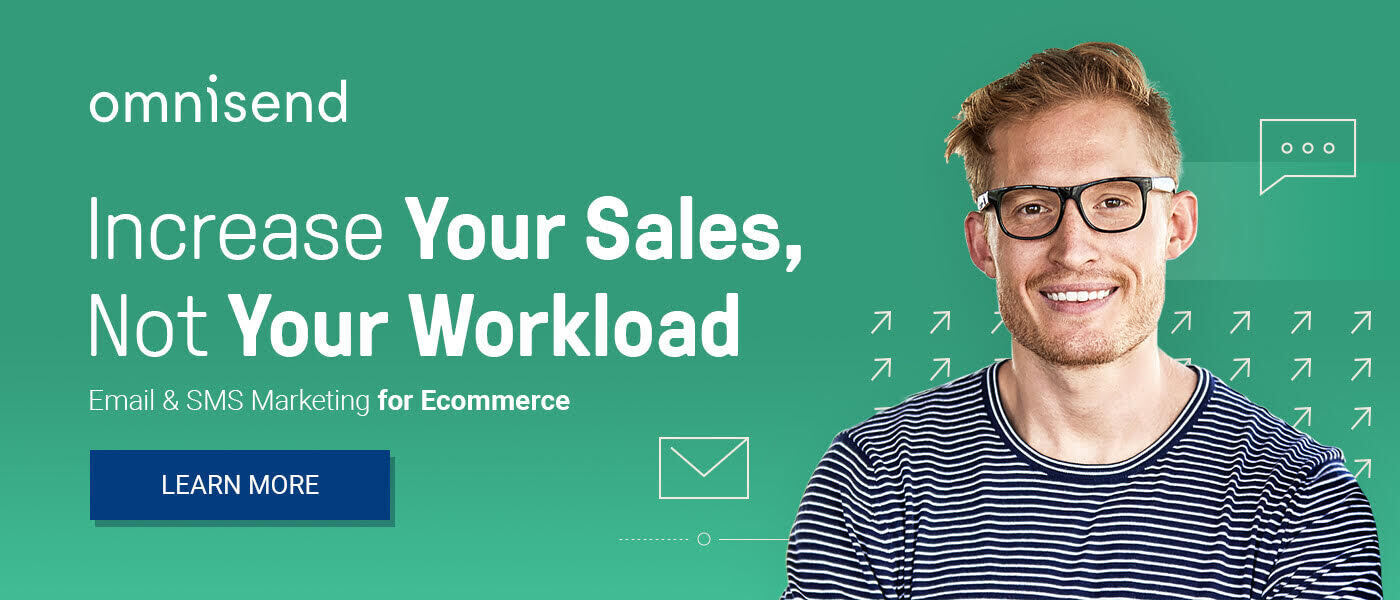 Non-members: Show them what they're missing
We say this a lot at RGE: Show your audience the value of your products and services. Don't just tell them you're funny. Tell them a joke.
Keep subscribers in the know with membership updates on an FAQ page on your website or by answering questions in an email specifically for non-members. Include descriptive visuals like graphics and photos of people using your product.

Company: Thrive Market
Subject Line: You asked, we answered: What do I get as a member?
Thrive Market takes the initiative in this message to non-members. They kick it off by putting the reader in the email with the subject line: "You asked, we answered…" Thrive Market shows that people consider them a trusted company based on the number of dedicated members (650,000+), who Thrive is, and how signing up for a membership can benefit the reader.
You can also send non-member emails as an opportunity to upsell non-members. If they're using the freemium version of your product, encourage them to take the leap to a paid membership or a paid service plan by offering an incentive like a trial, discount, or a free gift.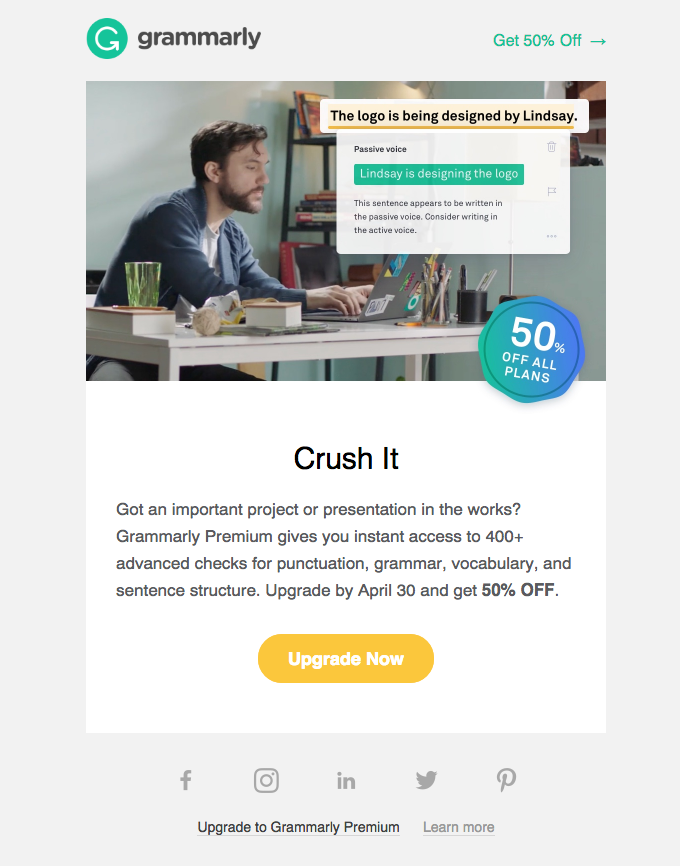 Company: Grammarly
Subject Line: Rock Your Next Project. Take 50% OFF the Plan of Your Choice
Grammarly shows an upgraded version of its product in action (suggesting how to adjust a sentence written in the passive voice). This email leads the reader's eyes from the subtle 50% off discount in the top right corner, to the product, then the larger discount sticker, and then all the way down to the main CTA button, encouraging the reader to upgrade.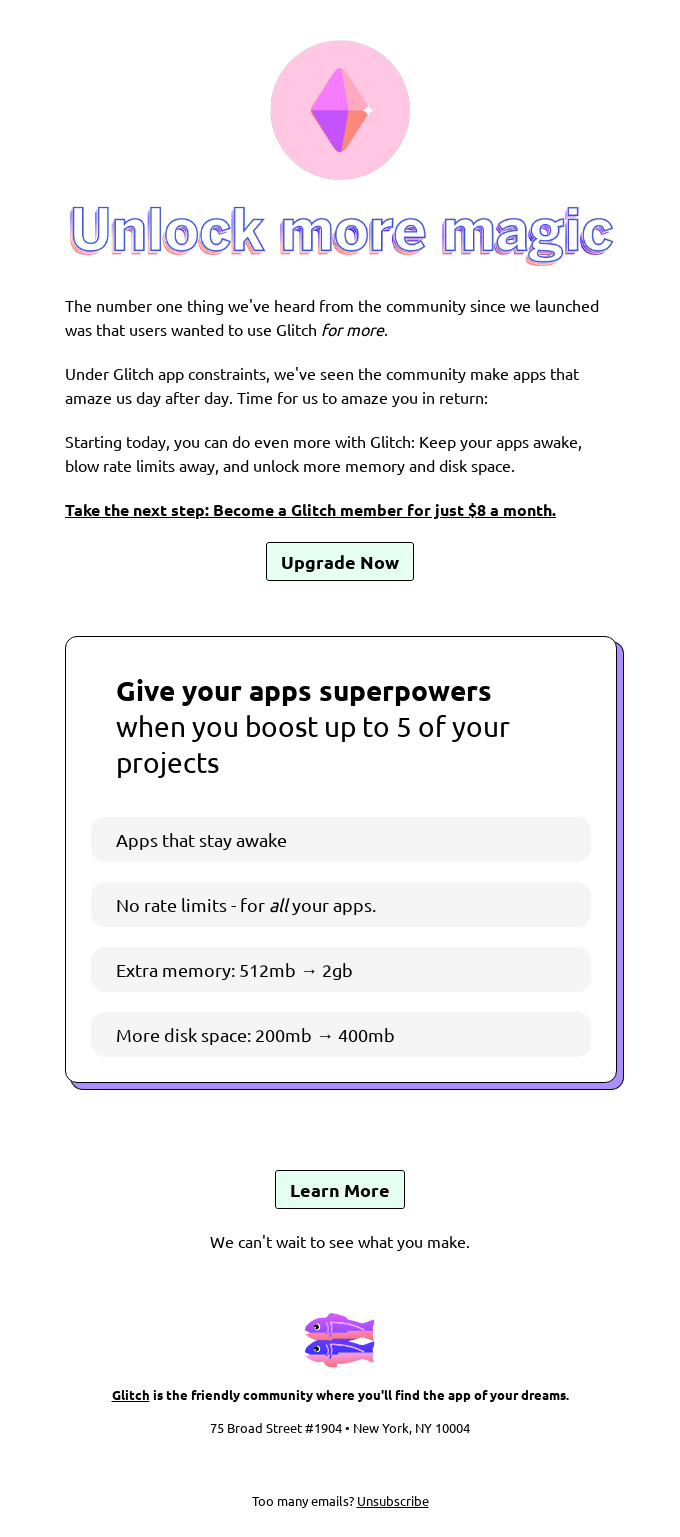 Company: Glitch
Subject Line: Become a member to upgrade your apps
In another example of showing the value of upgrading, Glitch shares a quick look at why subscribers should upgrade, and how it can help them in a playful way "Give your apps superpowers...."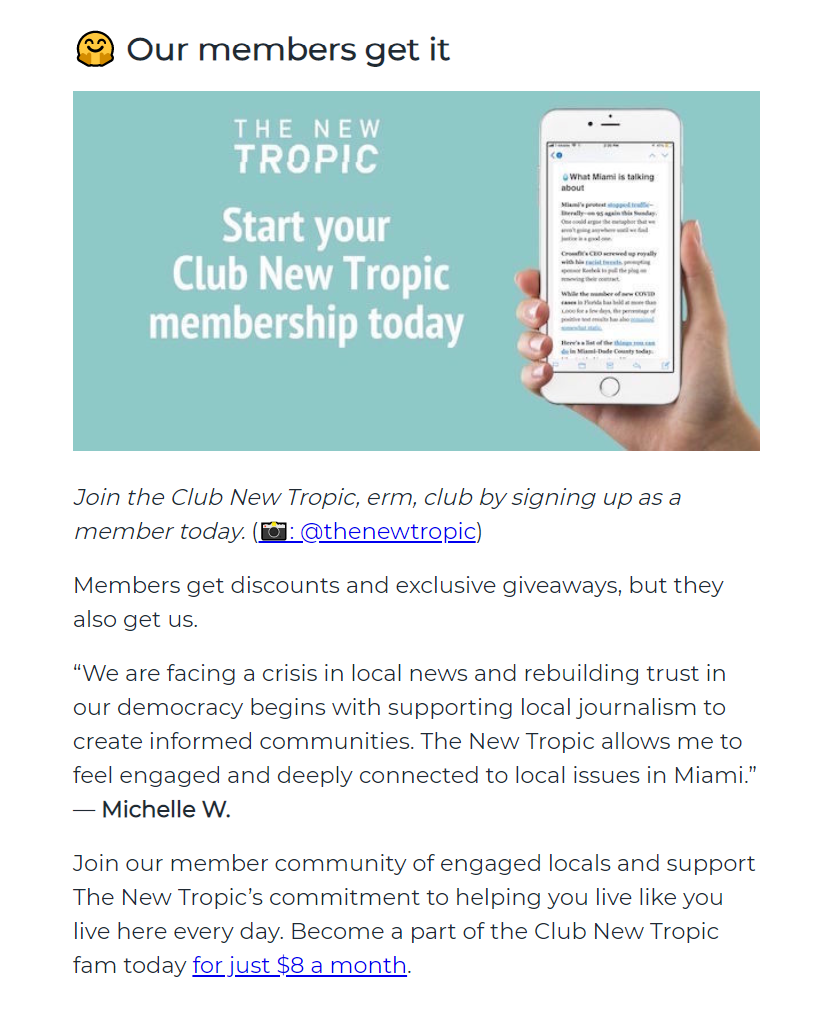 Company: The New Tropic
Subject Line: 🍄 The Magic City may be getting magic mushrooms
The New Tropic, a daily newsletter with news, events, and stories for Miami residents showcases this "members get it" section to show non-members what they'll get by joining. They let the member quote showcase the value of the membership, adding a human touch to the membership ask.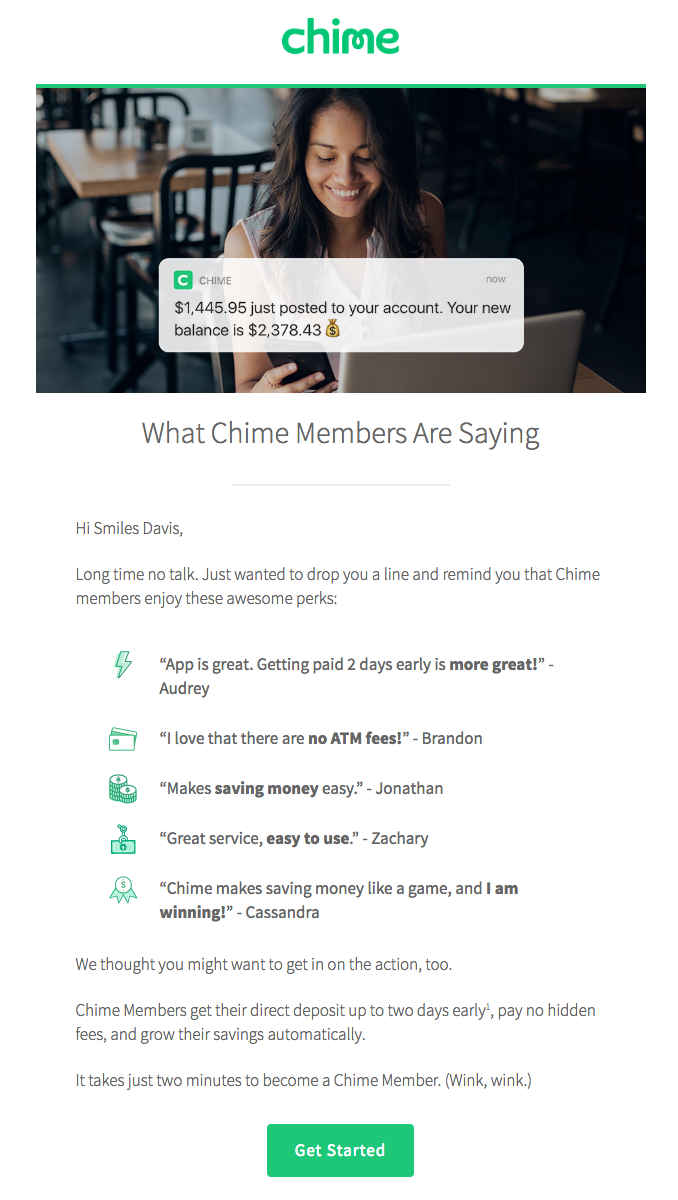 Company: Chime
Subject Line: What Chime Members Are Saying
Show non-members what they're missing and add social proof. What are people saying about your exclusive content? Why did they join? What do they love? People love reading reviews. These experiences help other people decide if they want to take the leap and join based on what other people are saying.
Trial membership campaigns
Sending out emails to encourage subscribers to try your product is a great way for people to test the waters of what being a member is like. People like free things. Offer a free trial of your product, software, services, whatever it is that you're advertising to non-members, and serve your audience a retention message once the trial's up.

Company: Grubhub
Subject Line: Your free Grubhub+ membership starts now!
Grubhub shows the value of their upgraded membership with a fun GIF at the top of the email - food delivery rolling up on a scooter - a personalized "Thanks for joining" message, mentioning exclusive benefits, and all the info the reader would need to get started with their order. The email is bright, fun, and direct - a great way to welcome someone who wants to try Grubhub's membership.

Company: Scott's Cheap Flights
Subject Line: Free trial of Premium membership
Scott's Cheap Flights highlights the benefits of a premium membership with fun graphics and minimal text, showing subscribers the value. The email also includes screenshots of reviews on why people love the premium membership, leading right to the main CTA to encourage readers to upgrade to a premium membership.


Help Subscribers Feel Like They're Part of the Club
Whether people are cruising on a freemium version of your product or they're early adopters of your products, craft every email message with a clear intention. Get to know your audience through signup forms, ask for direct replies and surveys, and use that data to personalize your emails.
The more invested you are in your audience and the more that you vocalize that, the more valued your subscribers will feel, and the more likely they'll want to upgrade or become a member when the timing is right.
Ad: