Triggered email open rates were 67.9 percent higher than business as usual emails and nearly doubled in click-through rates in Q3 2017. Email automations are all about welcoming customers and building a relationship upon a signup or customer action.
When you change a web page or a form, that's a great time to test or update any trigger emails connected to your customer journey.
An automation isn't a "set it and forget it" situation. Update your email template, subscriber database, anything and everything to make sure your automation is connected, working, and doing its job.
Here's a look at key takeaways in updating different email automations:
Onboarding emails are great for introducing subscribers to who you are, what you do, and how they can benefit from you. Whether you're updating automations for a company, for a nonprofit, or for your own business, our ideas and goals can change throughout the years.

Update your onboarding emails as your messaging evolves. Include your mission statement. Where can people find you on social media? If it's part of your strategy, share the latest in your YouTube series, podcasting, or how people can jump in on the conversation on social media to tag your company and build a relationship.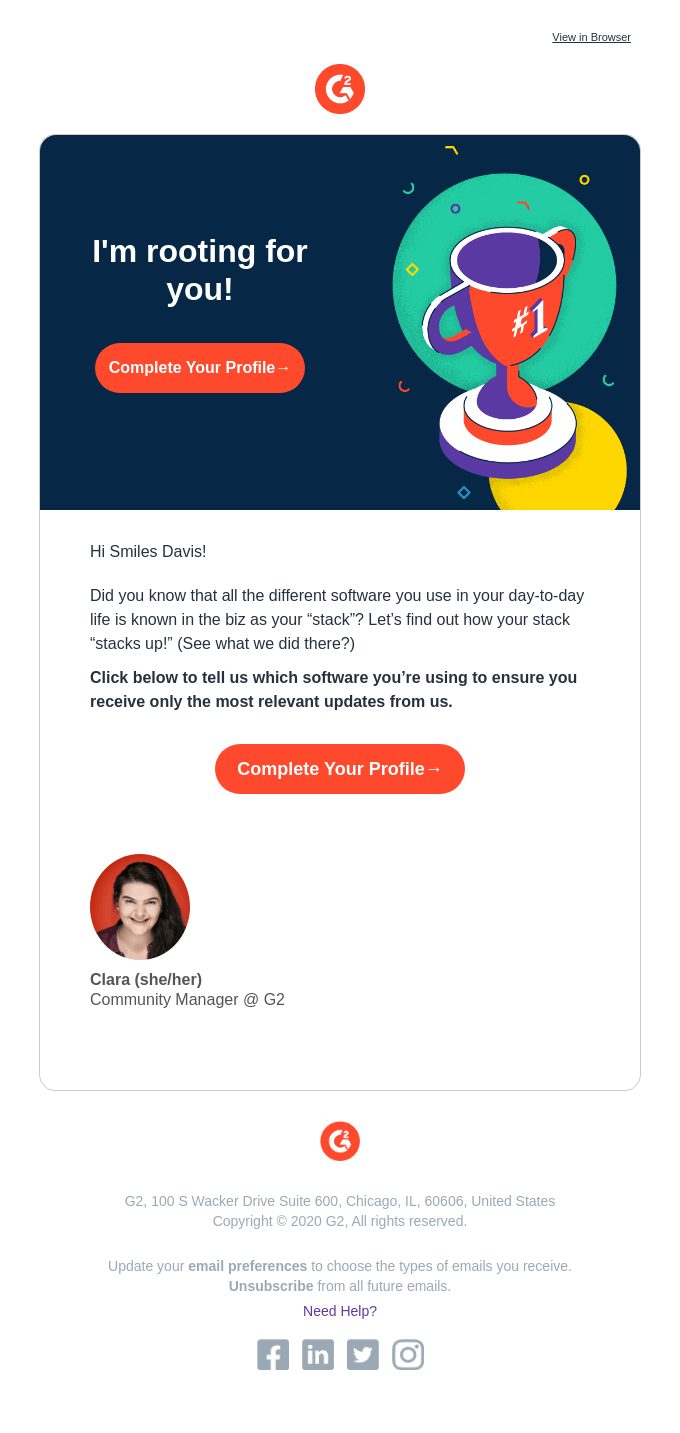 When you're welcoming customers into your virtual home, personalize the experience with the most recent and most important data you have.
Update email merge tags to reflect the verbiage and the fields you're requesting in landing pages and forms on social media. Think of your marketing content as living documents: as these change, so should your email automations.
Ad:
There's a LOT to cover with e-commerce emails, so stay tuned for a deeper dive later on in this series about automations. For now, here's a look at a few types of e-commerce automations to keep on your radar to update frequently.
You've seen them all: pop-up forms, promo codes on social media, email signups, and taking quizzes about which type of bread you are in exchange for a discount.
Customers expect to get these discounts immediately after completing an action on your website, so update these automations as often as you update your sales and products. New seasons, holidays, and new product launches are all great opportunities to check in with the automatic discounts you send out.

Order and Shipping Confirmations
Keep confirmation emails focused and optimized per customer.
In a bold move, Amazon removed item descriptions and images from its order and shipping confirmation emails. Customers might find this confusing, especially if they're expecting multiple shipments.
Do what's best for your audience and keep the emails clear.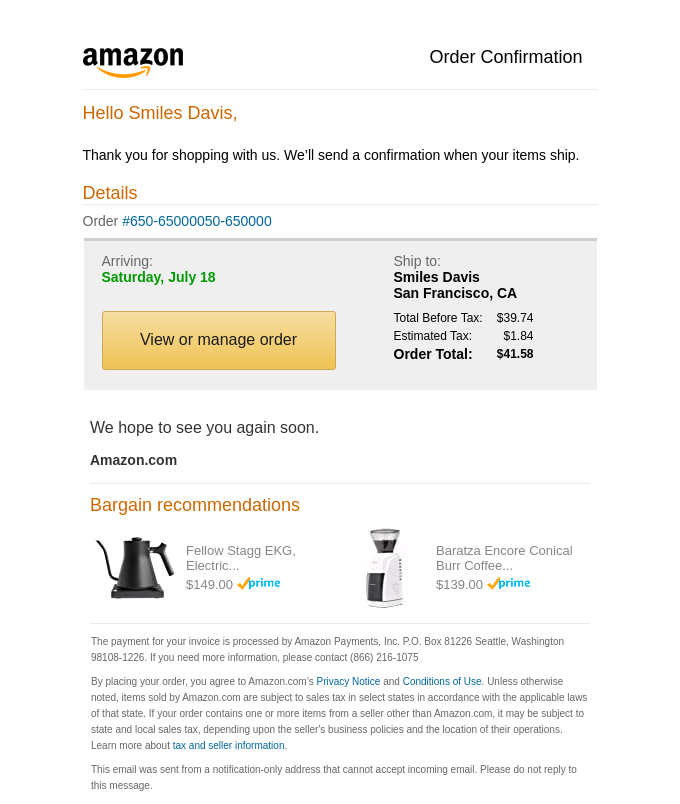 Asking customers to leave a product review to earn 50 rewards points in their account can be an incentive-based ask in your automations. Keep this ask up to date with your current rewards and referral systems.
Recommending similar products to customers based on their previous purchases or offering product protection, depending on the item, can be a great way to keep customers coming back to your site to buy more.
Segment these emails based on customer status: new customers, existing customers, VIP customers. Update these automations to start and stop sending after a certain period of time – and test it!
In an example of what not to do, a customer received a reminder email 4 months after abandoning their cart. When they went to check the item in their cart, the cart was empty.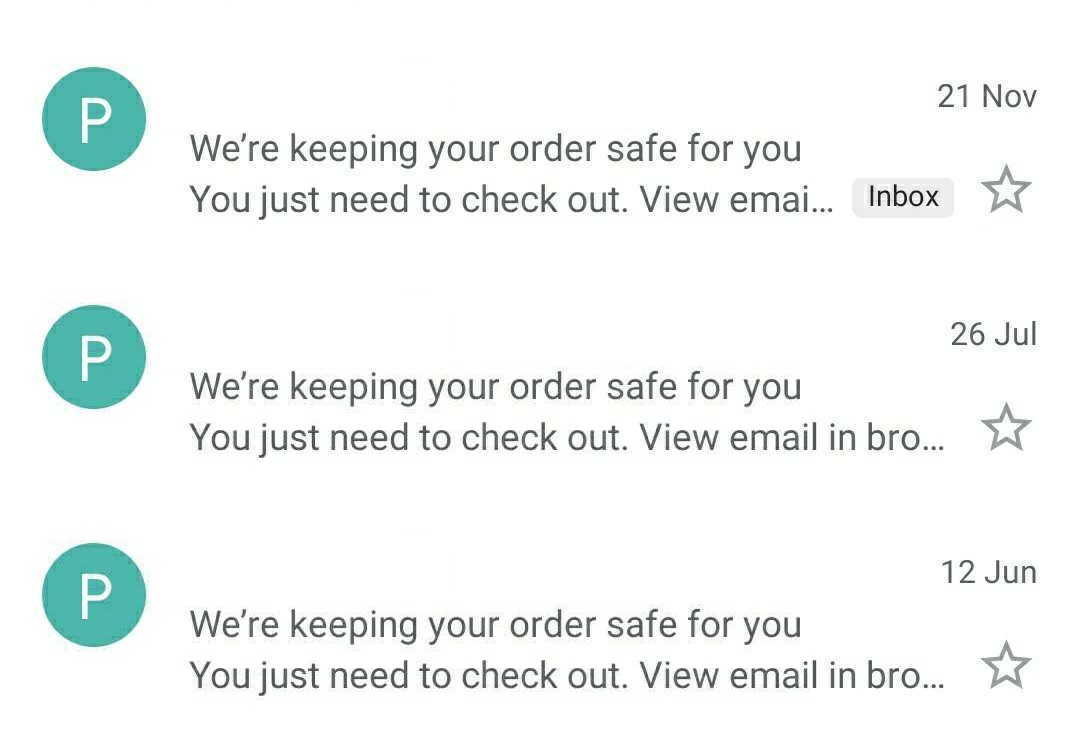 Get your customer data together. Bridge the gap between the abandoned cart and successful purchase by being timely and accurate with your automations.
Get customers back before they leave for good, and personalize the emails based on their activity (or lack thereof).
In this Headspace email, the message is friendly and comforting. The email encourages the subscriber to keep going, even offering an explainer video related to overcoming obstacles and getting closer to the goal in mind.

The key here is relating to the subscriber, meeting them where they're at so they'll be more inclined to return to the site or the product.
In Hulu's case, a Seinfeld GIF will always be relevant and (hopefully) put a smile on the subscriber's face. Tying in the subscriber's birthday adds a personalized touch to reengage them.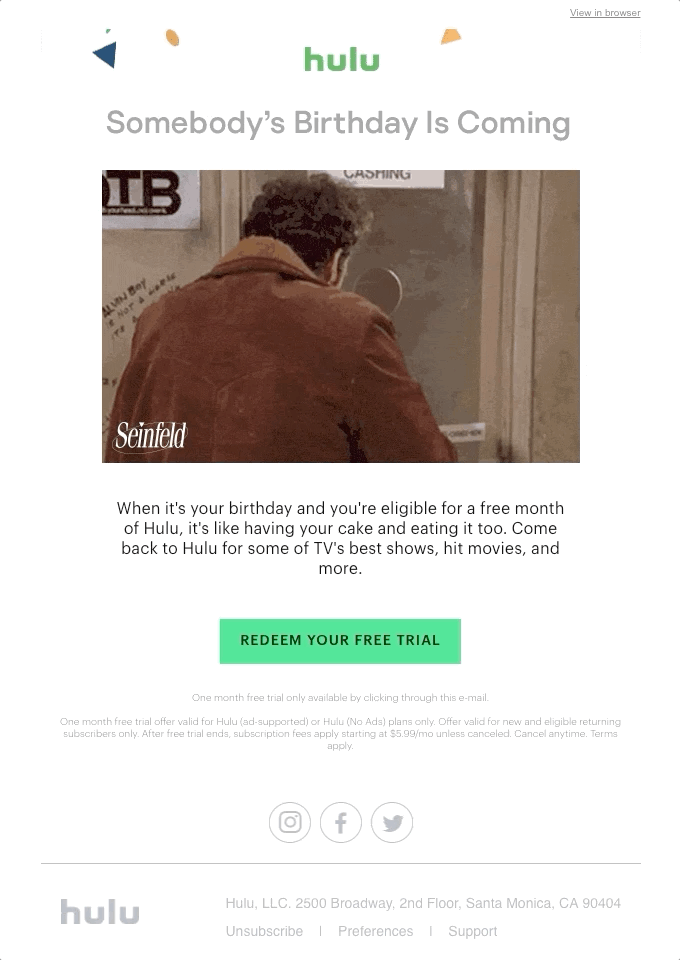 Multichannel remarketing
One of the best things about your original content – especially if it's evergreen – is repurposing information for different platforms, audiences, ads, and email campaigns. You can turn one blog post into countless social media posts, podcasts, and videos, tailoring each caption and scheduling the posts.
SEO expert Brian Dean saw a whopping 111.37% increase in organic traffic to a case study when he updated the blog post and re-promoted the post in an email to subscribers and on social media.
By promoting new and existing content across multiple channels, you're delivering a fresh experience per platform to meet your customers wherever they are. Plus, you're reminding search engines that you're publishing or updating content consistently.
Test those automations
Always test updates. Whether that's a new web page, a form, or your email automations, go through as much of the live process as a customer to make sure everything works.
Test the updates on desktop, mobile, across browsers and devices. Ask your friends to test the updates. Heck, ask your cat or dog to get in on testing (okay, maybe that's a bit much, but you get the point). Give your audience the most seamless experience possible throughout the entire journey.
At RGE, we believe that email is relationship designed. Maintain that relationship with your audience by keeping all the pieces connected in real-time.
Ad: