The most powerful nonprofit emails tell compelling stories through videos, interviews, and long-form blog posts. Educate the audience, thank them, and share campaign milestones in both your emails and your website to increase donations. These elements can help your audience understand the value of the nonprofit organization and why they should support the mission.
Nonprofit emails should be transparent with audiences, answering the following questions: Who is the nonprofit organization? Why is the organization asking for money? What is the organization's mission? What does the organization do with the money?
Here are six types of emails every nonprofit should be sending:
1) Welcome Email
A welcome email can help set the tone for any organization. With a nonprofit, a welcome email can showcase what we mentioned above: who the organization is, what they stand for, where donations go, and how readers can help. This introductory email should show the value of the organization. Tell a story by celebrating a victory or a defining moment. Explain what cause(s) the organization supports so the audience can understand the full picture and feel compelled to donate.
2) Storytelling Email
Sharing success stories and powerful journeys helps your audience connect with people, pushing past the barrier of an unknown company or corporation. Who are the people your organization is helping? What is your "why?" Use photos, articles, videos, interviews, and recaps of fieldwork to personalize storytelling emails.
3) Educational Email
Inform your audience on what's going on in your industry. For example: how many people are homeless or living in poverty in the country you're serving? Who is affected by these statistics? What additional resources can you provide that confirm this information? How will donations contribute to your mission? Feed your audience information and they'll be moved by facts.
4) Updates / Milestone Email
Share updates on…the organization's facilities, staff, clients, a new website, celebrate milestones hitting $$$ in donations or filling homes with clean water. Send a milestone email as frequently as it's appropriate for your organization. Some nonprofits send an annual roundup with the year's donations, who received help with these donations, and how many people the organization helped thanks to the donors. This helps your audience understand that they're part of a larger cause.
5) Call for Donations Email
These emails are also known as a donation appeal or appeal emails. The message of this email is for the reader to do something, to act, persuading the reader to donate blood, volunteer, drop off supplies at a food bank, or donate funds. Think Giving Tuesday emails.
A call for donations email is also a good opportunity to explain any special details related to the funds, such as matching donations (if you donate, we'll match your donation amount).
6) Thank-you / Retention Email
Thank-you emails nurture an existing relationship with your audience of donors. Thank them for their support, update them on where the organization is in its fundraising goals, and remind them of upcoming opportunities to get involved. You can also encourage your audience to keep the conversation going by asking them to share the organization's updates on social media using a hashtag that helps spread the word.
Check out these 12 really good nonprofit email examples:
1) Charity Water – Thank-you Nonprofit Email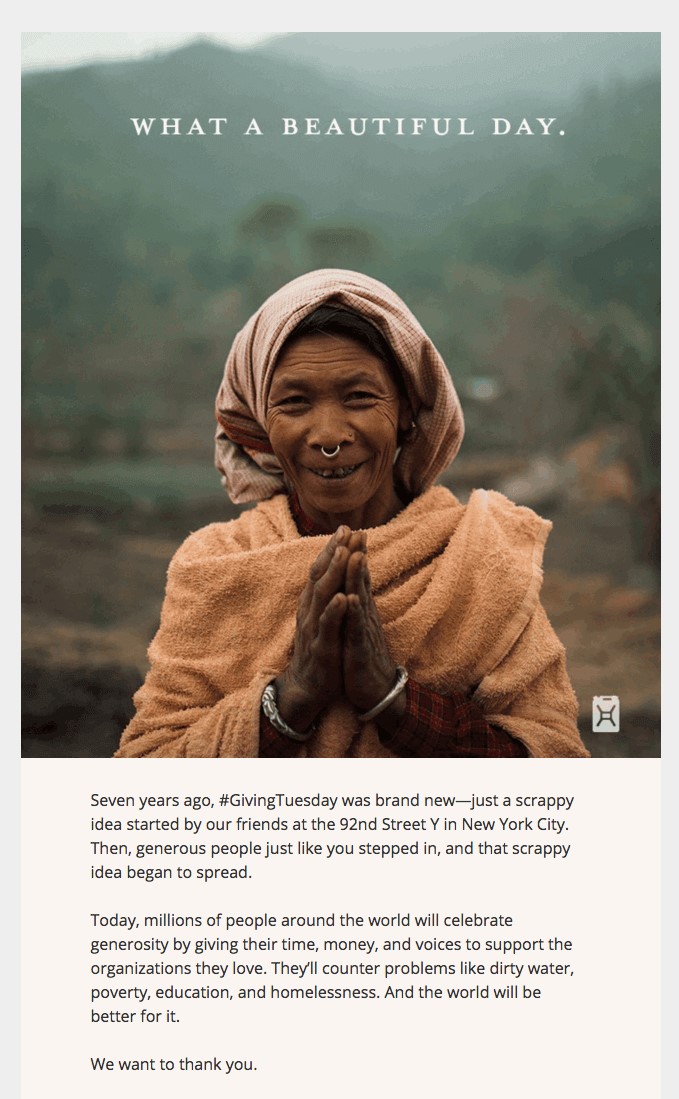 This email immediately sets the tone with an uplifting message and a GIF of people smiling and folding their hands together as a symbol of gratitude. Charity Water keeps the email content short and sweet with how their Giving Tuesday campaign began, where the campaign is now, and thanking readers for their support.
2) CARE Australia – Milestone / Storytelling / Thank-you Nonprofit Email
CARE Australia created a combination of a thank-you email and a milestone email with this message. The nonprofit shares concrete numbers of total donors from that year, how those donations helped, and how many people they were able to help. This is a great example of an upbeat thank-you email with specific milestone examples to persuade donors to continue giving.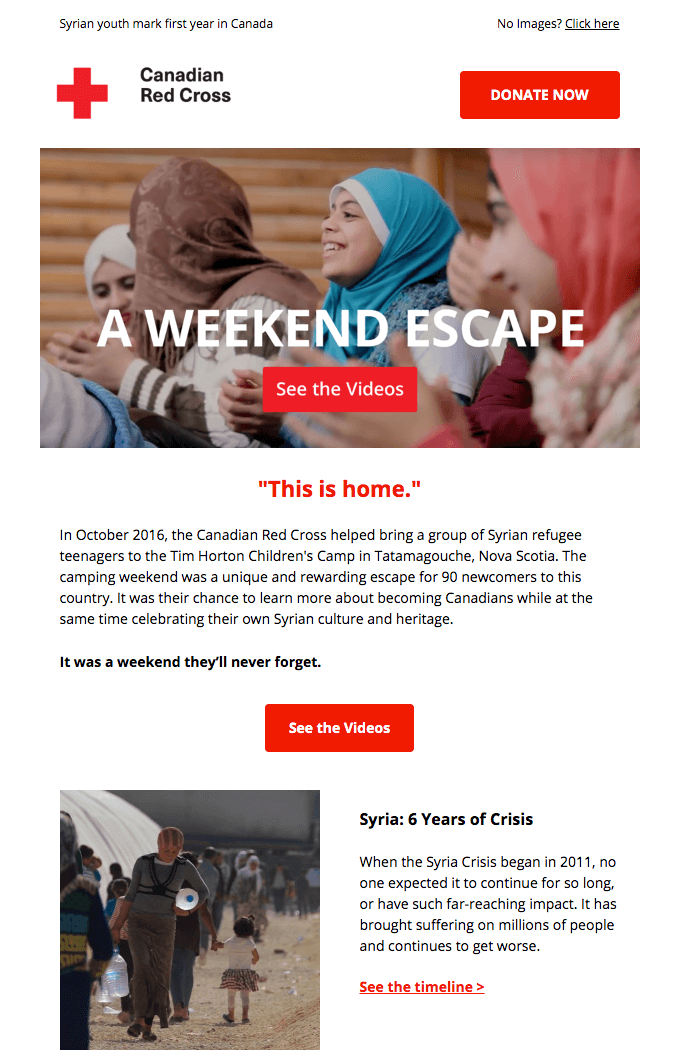 The Canadian Red Cross puts the reader right in the middle of its story, sharing an experience in which the organization brought Syrian refugee teenagers to a children's camp in another country. This is a powerful example of nonprofit storytelling, leading the reader to watch videos or click to learn more about the stories. While there's a large "donate now" button at the top of the email, the focus here is to educate the reader.
4) Charity Water – Thank-you / Retention Nonprofit Email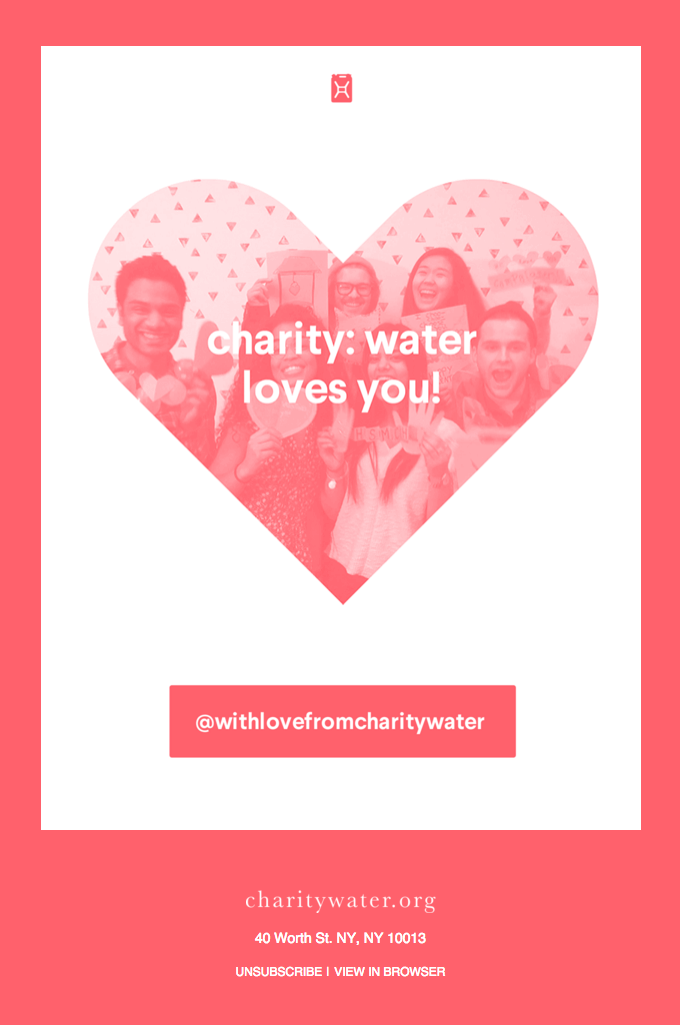 This highlights a simple yet effective thank-you email from Charity Water. The organization shares its love for its supporters with a GIF and a clear CTA to continue supporting the nonprofit while keeping donors interested.
5) Help for Heroes – Storytelling Nonprofit Email

This Help for Heroes email is a great example of storytelling through written and visual content. The organization jumps right into Carl's personal veteran story with quotes and photos from Carl and his family.
Help for Heroes sent this email during the UK's month of remembrance, mentioning, "Rather than just ask for a donation, we wanted to tell the story of one of our veterans so subscribers could understand why their support was so vital."
The email includes a "Donate" CTA at the top of the email and goes into more detail after Carl's story about how donors can help and where the money is donated.
6) JustGiving – Updates Nonprofit Email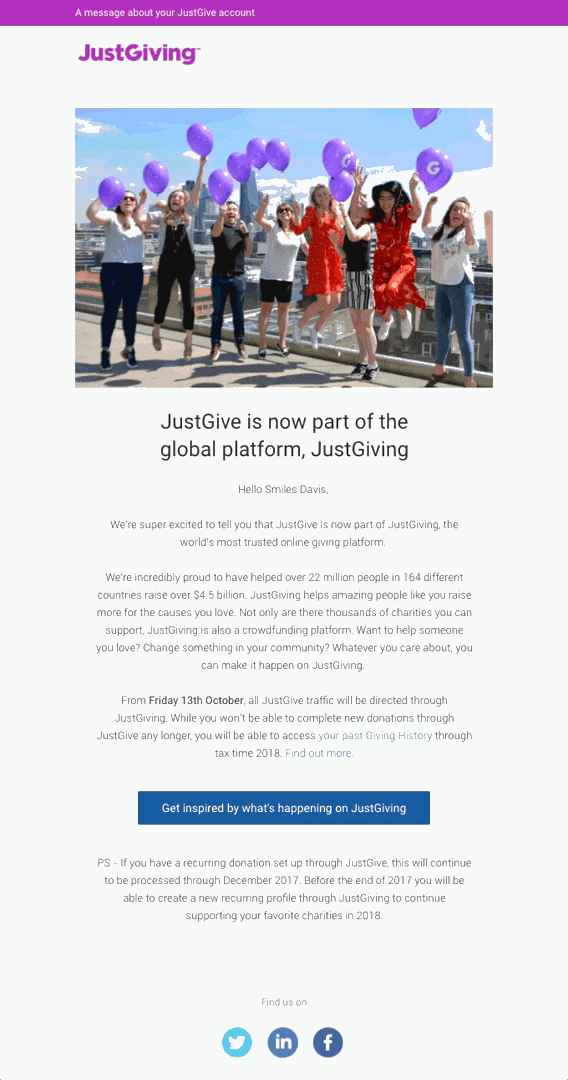 This nonprofit email announces a branding update, something that's crucial for donors and supporters to be aware of. With a fun GIF and celebratory photo, JustGiving explains what the update means for donors and how to learn more about its new platform, something donors will need to get familiar with to continue interacting with the organization and donating.
7) Simons Foundation – Updates / Educational Nonprofit Email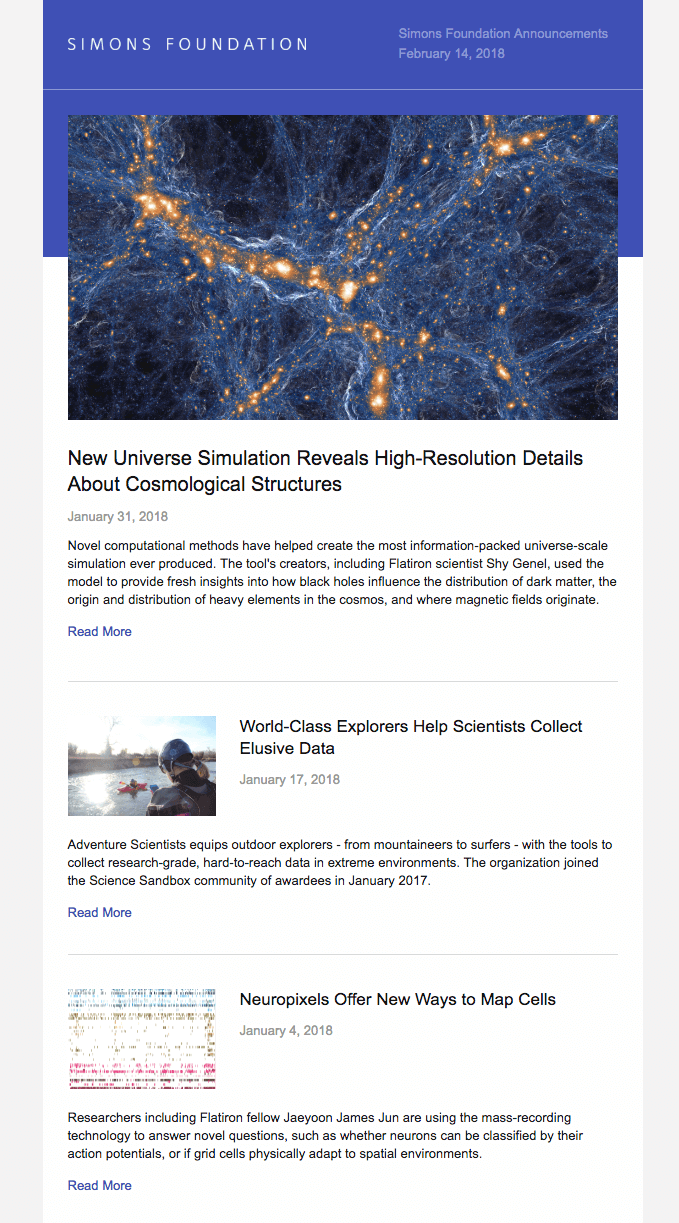 Outside of asking for donations, nonprofit emails can share helpful insights with its audience to further educate them about related topics, in this case, research and data. Sending an educational nonprofit email like this gives readers a taste of articles on the Simons Foundation website to keep up with industry-related news and organization updates.
8) MS Society – Educational Nonprofit Email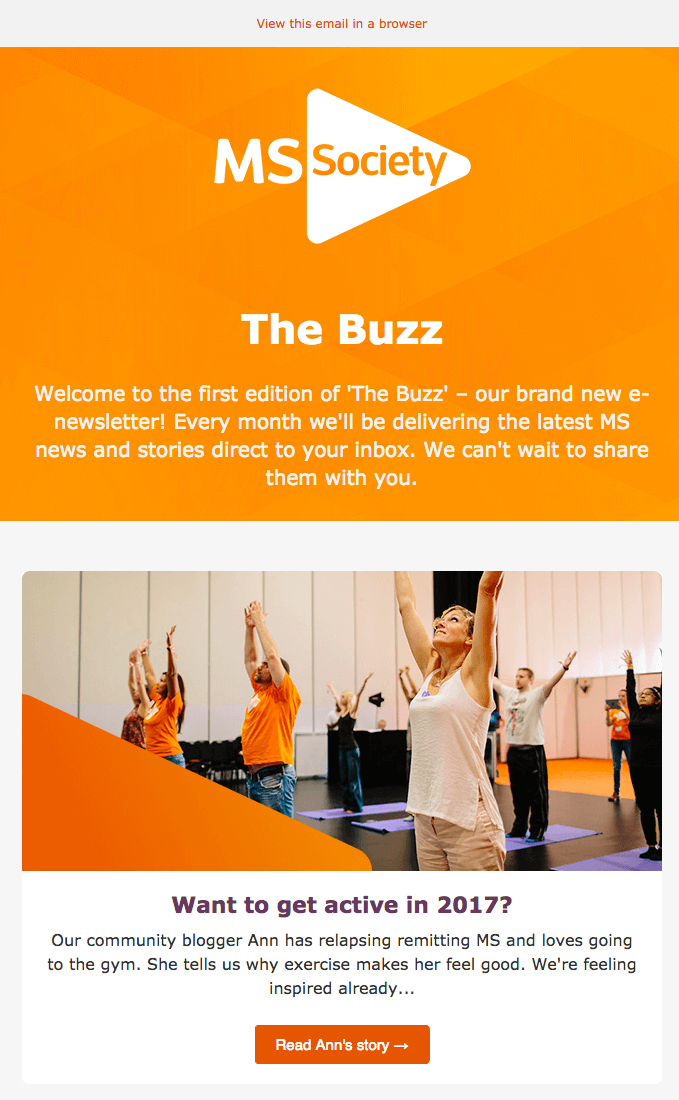 This newsletter email from MS Society gives the reader a lot of action options; the audience can read articles, nominate a hero, watch a video, or donate. While there's a lot going on with the CTAs, it works in this format to give the reader a choose-your-own-adventure experience.
An educational nonprofit email like this can keep readers engaged and persuade them to donate as they grow accustomed to the newsletter format.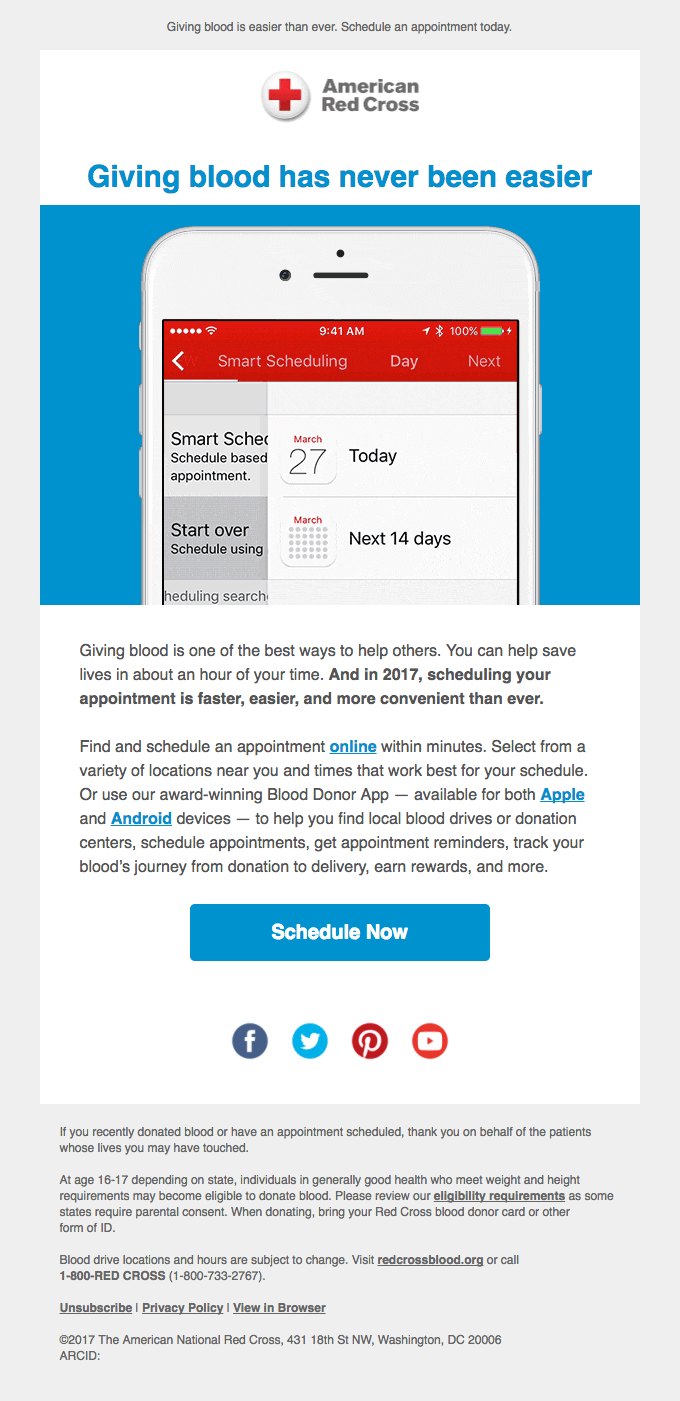 In this email, the American Red Cross asks readers to donate blood. How can a nonprofit make that sound appealing? Enter: technology. The hero image showcases a screenshot of the app and its scheduling tool, showing donors how they can easily schedule an appointment on a mobile device, track their journey, and earn rewards within the app.
10) Save the Children – Welcome / Storytelling Nonprofit Email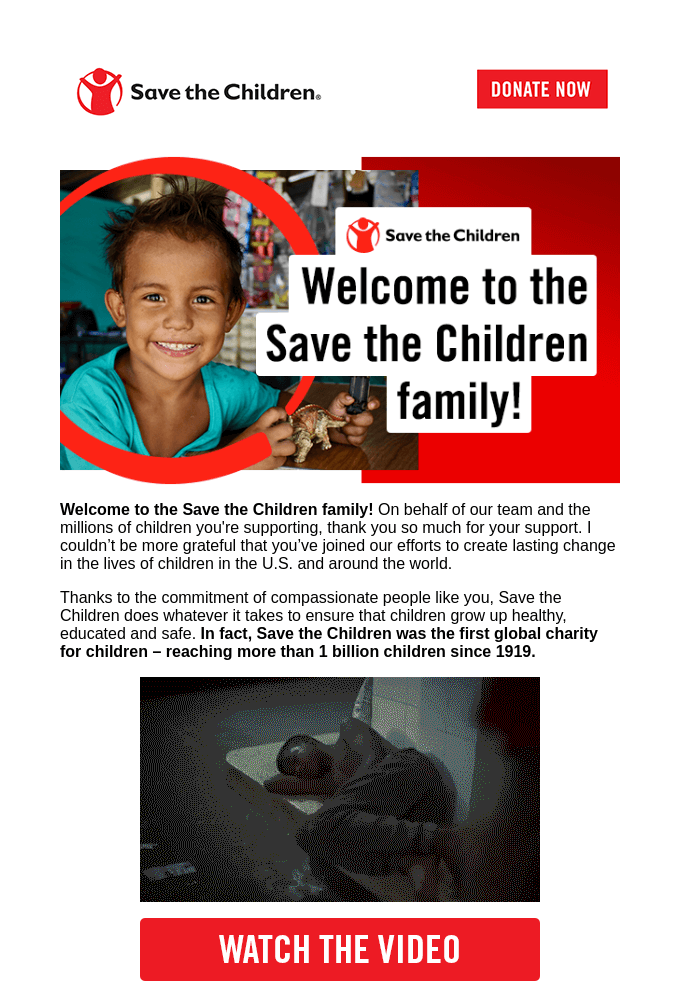 Save the Children includes all the best components of both a welcome email and a nonprofit email here. Their comforting tone helps the reader feel welcomed ("Thank you…" "Thanks to…people like you."). Consistent branding and CTAs lead the reader to a video about the organization and the people they help, which can help persuade readers to donate.
11) The Sharing Center – Donations / Storytelling Nonprofit Email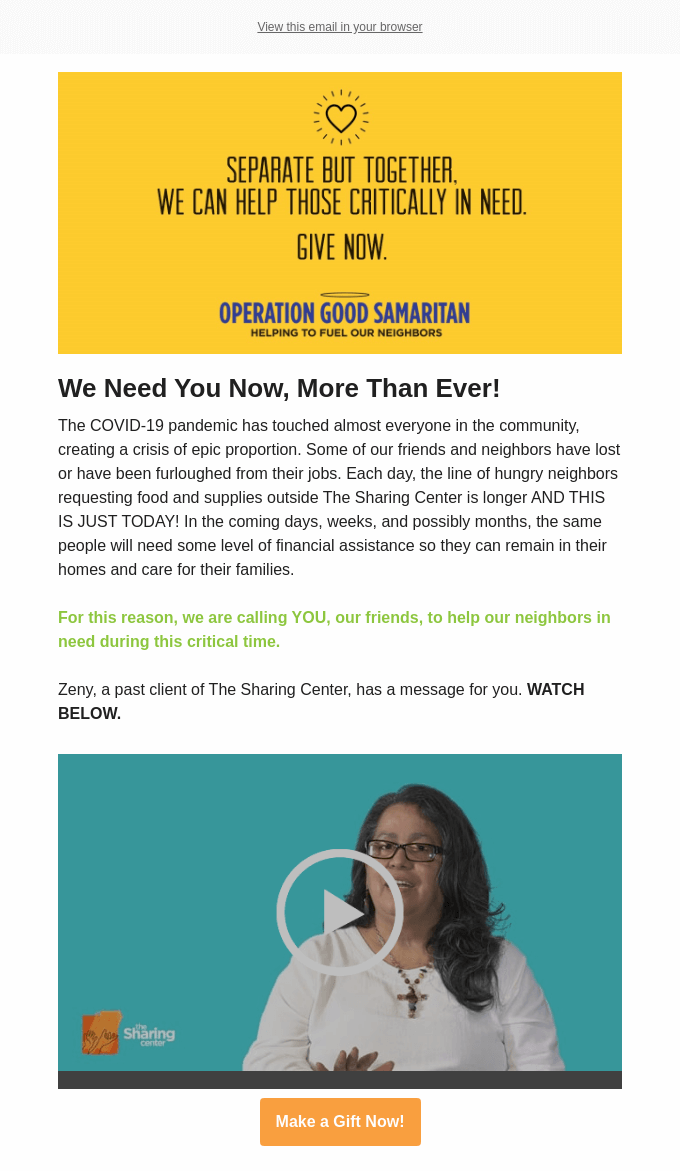 Right off the bat, the hero image addresses where we are (living during the pandemic) and immediately asks the reader to donate to a specific campaign (Operation Good Samaritan). The Sharing Center goes on to explain its increased supply needs and how the audience can help.
The email includes a clickable video image, leading to a client's personal story of how the Sharing Center helped her (storytelling elements), and the email ends by directing the reader to make a gift.
12) Feeding Children Everywhere – Welcome Nonprofit Email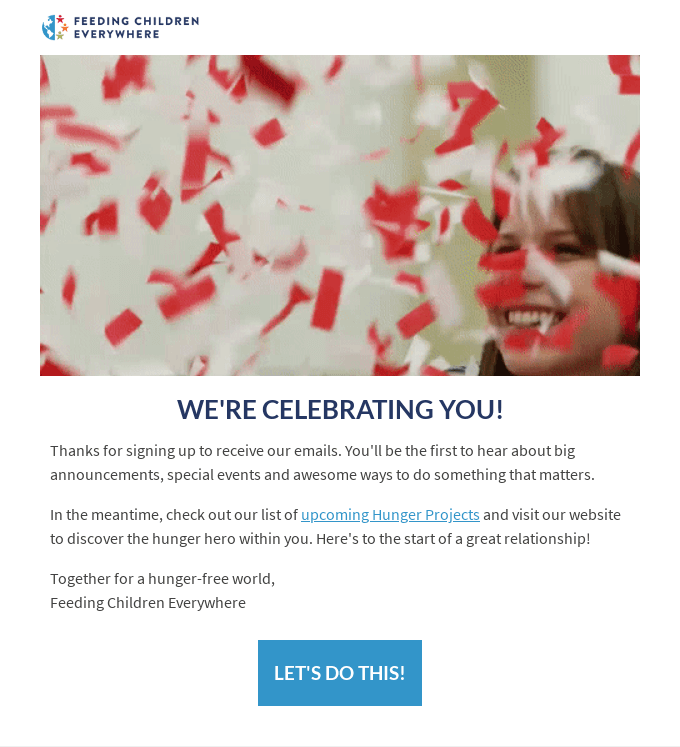 Similar to the Save the Children email, Feeding Children Everywhere contains welcoming language that can make the reader feel like they're part of the family ("…discover the hunger hero within you. Here's to the start of a great relationship!"). The GIF is a clever choice, showing what could be teammates and volunteers celebrating in a large convention hall where they assemble meals for the nonprofit's cause.
Really Good Nonprofit Email Collections
Check out these nonprofit email collections from RGE users:
Rob's nonprofit email collection shows some love for emails by Canadian Red Cross, Patagonia, and Deki.
Check out some of my favorite nonprofit emails, including emails from this article:
Make the process user-friendly
From email to website to donation, the entire process should be seamless for the audience and the design should be consistent. Ensure the organization's landing page to subscribe and donate matches the email to keep the branding cohesive. Readers should know where they are no matter what channel they're on.
Make sure the website is easy to navigate as well. Where you're leading people to find more information, read articles, and donate, the website experience is just as important as the emails.
State the Mission, Be Transparent
With any nonprofit email, make sure you're clear in explaining your mission to your audience. Be transparent about where the donation money goes by sharing stories. People connect with stories about other people.
They'll be driven to donate based on these stories, so keep your readers in the loop as much as you can! Share success stories and thank your audience to keep them interested in your cause.
Know of a really good nonprofit email? Submit your favorite to RGE!